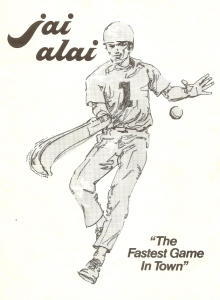 Former Owner & Jai-Alai Pioneer
"Buddy" Berenson Dies
L. Stanley "Buddy" Berenson, one of jai-alai's most influential pioneers in the United States for over 50 years, died March 24th,2000 in Miami, Florida. Those close to the family said that the cause of death was related to complications from a surgical procedure performed on Berenson earlier in the week.
He was 75, and is survived by his wife of 47 years, Mary Berenson, son Richard, daughter Diane and two grandchildren. Berenson was the long-time owner and Chairman of the Board of Berenson's Hartford Jai-Alai, which closed in 1995, and also owned Monticello Raceway for a considerable period of time.
His father, Richard I. Berenson, opened Miami Jai-Alai in 1926, and introduced Buddy to the sport at an early age. The younger Berenson began working in the fronton's box office, then took over a management position after his father's death. He was influential in increasing the sport's popularity, recruiting the world's top stars to play in Miami, and actually invented several of the wagers currently used in the pari-mutuel industry today, such as the perfecta and the quiniela.
After serving as President of World Jai-Alai for many years, he sold his interest in the company in 1977, then purchased the Hartford fronton in 1981. Due to increased competition from state lotteries and Indian casinos in Connecticut, Berenson was forced to close Hartford Jai-Alai in 1995. He will be remembered as an extraordinary innovator and promoter in the sport which he loved. Private services were held on Monday, March 28th. Buddy's Father Richard Berenson (1893-1967)
Richard Berenson was responsible for the success of Jai-Alai in the United States.He was president and General Manager of the Miami Fronton from 1929 until his death and he was succeeded by his son L.Stanley "(Buddy Berenson)".